The Pot Zero team takes pride in providing our clients with unmatched organic cannabis you won't find anywhere else in the country. Ideal conditions on our beautiful TNT Ranch make it possible for our "zero carbon footprint and zero chemical" philosophy to really thrive. Aside from striving to provide you with the healthiest buds, we also understand the importance of terpenes when it comes to getting the most out of your organic cannabis experience.
Why choose our cultivars? It's simple. Our harvests go through a rigorous cultivation program from seed to full-term plants, and every step of the process is carefully orchestrated by our skilled growers. Therefore the terpenes that develop on our cultivars are most optimal when it comes to providing you with unparalleled comfort. Not only will you be getting incredible tasting products, but you will also be benefiting from a vast number of medicinal properties associated with each specific terpene. Keep reading as we detail one of the most abundant and increasingly popular terpenes existing today: alpha-pinene.
By definition, a terpene is "any of a large group of volatile unsaturated hydrocarbons found in the essential oils of plants". As its name suggests, the flavor profile of alpha-pinene or a-pinene evokes notes of resinous pine in the essential oils of herbs and coniferous trees. Apart from cannabis, this terpene is found in rosemary, mandarin oranges, ginger, dill, basil, mango, celery, spearmint and many others.
One of two isomers of pinene (beta-pinene being the second), the terpene alpha-Pinene is an organic compound, and is an alkene containing a four-membered ring. Notable in regards to the particular conditions on our property, the emission ratio of this terpene depends fully on the specific light and temperature of a given region or growing environment, which is a major reason why our TNT Ranch is perfect for what we desire to accomplish within our plants. As we always say, "The More 'Terps', the Better!"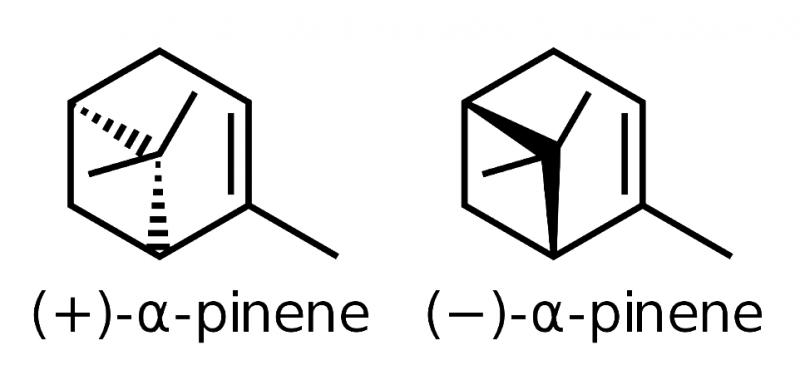 As mentioned above, alpha-pinene is one of the most abundant terpenes available to us through a number of plants, however it is within cannabis that we see added potential to provide aid in a great variety of areas. This terpene has been known to be anti-microbial, anti-inflammatory, it is a bronchodilator (helps with asthma), and has also been known to provide anxiety relief, among many other benefits. It's important to note that terpenes on their own will not get you 'high'.
But perhaps the most important thing about terpenes such as a-pinene is that they work in tandem with phytocannabinoids in order to achieve maximum benefits for the body and mind. Acting with compounds such as CBG and CBN, alpha-pinene greatly magnifies their effects and makes your body and mind experience incomparable levels of comfort.
Pot Zero's High alpha-Pinene Cultivars
We're proud to say that the 2019 Pot Zero harvest contained our highest terpene levels to date, throughout many different cultivars. While we can't pick our favorite (it's impossible), be sure to check out our "blue tootsie pop"-tasting Axilla, our delicious Huckleberry, and of course the piney Durbana, all of which contain levels of a-pinene that will surely satisfy your taste buds and your self-care regimen.
Look for our products at some amazing Colorado dispensaries, such as: Altitude Organic (Dillon), Roots RX (Leadville, Avon), Mile High Dispensary (Denver), LiveGreen (Denver, Edgewater), & The Clinic (Denver).
We're excited for you to try all of our classic flavors! Be sure to keep following the Pot Zero blog page for more updates, and if you haven't yet – give us a follow on our socials: Instagram, Twitter, & Facebook.